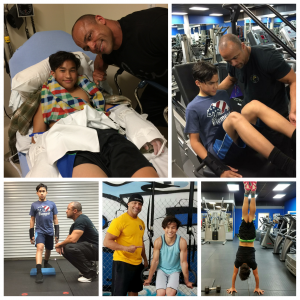 "Ronny Camacho has been a huge part of my growing gymnastics career for the past nine years of my life and was there every step of the way. Every single moment, inside and outside of the gym, Ronny has been there training, encouraging, pushing and inspiring me to be the best gymnast and person I can be.During what would have been my first year competing at Level 9, something 'uneventful' occurred. I experienced a very rare injury called 'grip lock' which occurs when a gymnast's grips lock to the horizontal bar while the gymnast is still rotating. This causes severe damage to the forearms. At around 6:40 pm on December 14th, 2016, it happened to me and I fractured both ulnas and bent my radius. I arrived at the ER around 7:10 pm and within 10 minutes Ronny was there for me having driven across two cities to support me.
After meeting with the doctors, they said it would be unlikely for me to be back on the gymnastics equipment in the next year. However, I think Ronny begged to differ. With two casts up to my elbows, I spent three days a week training my lower body and back. As soon as the casts came off and I got the 'ok' to use my wrists again, we were working that too. Only five months after the injury, I found myself in the gym doing giants – completely proving the doctors wrong!
Now, here I am in 2018 ready to compete stronger than before as a Level 10 gymnast and I owe it all to Ronny. I want to thank him for being an amazing teacher and coach, and consider him as a member of my family. Thank you for doing everything possible to help me through my life and gymnastics!"
Armando Nicolas Visitacion
My name is Alexa Solomon and I am a 16-year-old level 10 JO gymnast. Ronny Camacho has been a tremendous part of my journey from the beginning.
The sport of gymnastics is a very challenging sport both mentally and physically. Ronny has devoted his time to understand my goals, dreams, and aspirations, and has been incredibly dedicated to my success and always finding ways to support me. He is an amazing mentor and has a unique insight and tremendous ability to inspire and encourage! He looks at the whole picture, and is a constant reminder of leading by example!
I have gone through some tough years and Ronny has made a profound difference in my life! When I am having one of those days, he is the first person I call. He is ALWAYS available for me! He is so positive and his seemingly "You can do this and never give up" enthusiasm and generous spirit is an invaluable example of the person he is. An athlete's mental toughness is just as important as the physical! He knows when to nurture and when to give me tough love! He puts everything in perspective for me.
I am so thankful that Ronny is a part of my life. He is family! He is an amazing strength training coach, mentor, and such an amazing force to assist me in reaching my highest potential! I owe all of my success to him. As a result, I am so excited to announce that I am verbally committed to San Jose State University for the fall of 2019. Everything that I have learned from Ronny will be a driving force in the years to come!
Preparation is the essential aspect to have success on any platform. It doesn't matter what your career path entails whether it is athletics or in life. Those who have goals can make preparations so that something that started as simple dreams and ideas can be an actual reality. I have always wanted to play football professionally. However, before that happens I have to become the best college football player I can possibly be. This is where Camacho has played his pivotal role in reaching my goals. He has made me faster from running various drills either on the field or at the beach on an inclined mountain. He has helped me get stronger with resistance based exercises and drills. He has prepared me to perform optimally on the field bar none. Most importantly, he has helped me with my very own mental preparedness.
One can run drills till they can't anymore, but if your mind isn't right then all that is irrelevant. He always harped on keeping my eyes focused on where I want to be, not right where I am at. I can control my outcomes and I just have to work till it hurts to be where I want to be. Having natural talent is important, but nothing surpasses the will and work ethic of someone who wants to be successful bad enough. It is hard to think that way when your head is buried in a trashcan after running hills, but all was done for my betterment. So for all these lessons, physically and mentally, I will always be grateful for Camacho. I am grateful because he is a determined person, an empowering trainer, an aspiring father, and a loyal friend. Thank you for everything you have helped me become.
Ronny Camacho has been a coach of mine for over 5 years and during this time I have elevated my gymnastics career more rapidly than I ever thought possible. I have been training gymnastics since the age of 4 and always had dreams of competing for a division 1 NCAA team. Just as my time came around to begin engaging in the recruiting process I was devastated by a major staph infection in my left hip that required multiple surgeries. After a prolonged stay in the hospital and over a month of IV antibiotics my body weight was down to 117 from 145 and all my muscle mass had atrophied. The doctors told me I physically wouldn't be able to get back on the same level I had previously been on and advised me to stay out of the gym, I was a skeleton and all my years of hard work seemed to be spiraling down the drain. After sharing with my coaches and teammates what the doctor had told me I was immediately approached by Coach Ronny and what he told me gave me the motivation to get back in the gym the very next day. Coach Ronny made it a personal mission of his to get me back to where I was as fast as possible through a personally constructed training regimen that covered all areas including strength, flexibility, rehabilitation, mental training, and as well as diet. Through many personal training/conditioning sessions as well as the work he did leading our team and providing the motivation I was able to make a full recovery within 3 months and continued on from there to rapidly progress faster than I had before getting sick. One year later, thanks to my training under coach Ronny, I was recruited to the UC Berkeley gymnastics team and to this day practice his training methods, both mental and physical, to perform at the peak of my abilities
Ronny Camacho
Applies gymnastics lessons to everyday life
Knows exactly where your limits are so you can push through any pain knowing he hasn't given you an impossible task.
Legitimately cares about your progress and success.
Give excellent advice on how to take care of injuries to get back to full strength ASAP
Changes up conditioning
Is knowledgeable on injury prevention, strength training, nutrition, as well as general life advice and taking the lessons we learn in the gym and applying them to life.
Ronny has been the best conditioning coach I've worked with in my 19 years of gymnastics training. It is easy to see how much he cares for each one of his athlete's progress and success both in the gym and out. Ronny really gets to know his athletes and what their limits are, the information he uses to craft conditioning sets that will push you right up to those limits. I know, going into every set, that even though it will be challenging, I will be able to finish whatever is asked of me because Ronny knows exactly what I'm capable of and wouldn't give me a challenge I couldn't overcome. Ronny taught me to give 110% and I have been able to push my body far beyond what I thought it was capable of. I learned that most of the limits I saw myself bound by were all in my head.
Ronny's focus, however, reaches far beyond the limits of the gym. He wants his athletes to be successful in all aspects of their lives and uses the lessons we learn as athletes and competitors and turns them into life lessons. Personally, I had a hard time keeping things from getting to my head; one bad turn or one off-color comment about my attempts at new skills would screw up my work out and put me in a bad mood which would ruin the rest of my work out. Ronny explained to me how this wasn't just something that I needed to work on in the gym, but something that I needed to work on as a general life skill. No matter how talented or skilled I am, if other people can get in my head and discourage me from going out and taking care of business, my skills and talents are wasted. Ronny made a lesson about how I should prepare mentally in the gym and extrapolated it into a life lesson that I will be able to take with me even after I leave gymnastics. There are few people I know that would spot these kinds of teachable moments, and even fewer that would take the time to talk to their athlete, explain the situation and work with them to overcome these kinds of obstacles.
Ronny is an expert in strength training, nutrition, injury prevention, injury rehabilitation and more. I have been lucky enough to have had his help in each of these areas for the past three years. He has helped me grow both physically and mentally and I would not be the person I am today without his help.
Ronny Camacho Sr. has been the biggest influence in all aspects of my life. He has worked with all my mental struggles and all my physical setbacks. He has been a loyal coach and a loyal friend. This man has the biggest heart in all the world and will get his job done no matter what the situation. He is strict and he is a tough trainer, but he will never lie to you about where you're at and will push you past where you think you can go. If you trust him and put your faith in him, I have no doubt that you'll succeed in what you want to do – whether you're an athlete or not. Just recently I was admitted to the College of William and Mary and recruited as a competitive college gymnast, and I believe that I wouldn't have gotten here without Ronny Camacho Sr. I worked with him for about 4 years, and when I started to work with him I was on the brink of quitting gymnastics. But, after all the encouragement and motivation he gave me, I felt like I was ready and had the motivation to continue again. Thanks to him, I have gotten accepted to this wonderful institution and have been working with the gymnastics team and improving more than I could have ever done. Not only is he a master at the mental game in a competitive athlete, he is also – obviously – amazing at the physical aspect. He will work your body to the brink and passed what you ever thought you could do before, and motivate you the whole way. But, he will give you the tools to replenish your body and be ready to work equally as hard the next day. Whether you want to be a competitive athlete or simply just get back in shape, Ronny can work with you and will work with you in the way that's best for you. My experience with Ronny has been unreplaceable and I still use his techniques and work out regiment today, without him having to tell me to do so. I think that's the best part about Ronny's style: it's not just a simple fix for one day. When he works with you, he fixes you for a long time – whether you're working with him or not. So, thank you Ronny Camacho Sr. You have changed my life in the best way possible.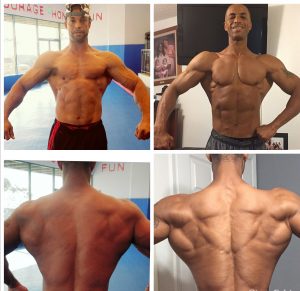 There is no one word to describe Ronny so I will start with the first few that come to mind. Loyal, determined, honest and motivated. I have known Ronny most of my life and I have always been impressed with his desire to win, his compassion to help people, and his unrelenting passion for making himself, his family, and the people around him better. I admire Ronny's determination and dedication to his craft and his life. I have had the opportunity to work with the San Diego Chargers and other professional athletes and trainers and Ronny has the tools and knowledge equal to anyone in the business. I wish my twin daughters that play soccer would have the privilege of training with Ronny because I have full confidence that he would bring out their full potential.For decades Ronny has been encouraging me to do a show. The family joke was that I would do it before I turned 50. Finally I built up the courage to complete at 49. Ronny carefully planned, prepared and guided me to compete in the 2017 Stingray Classic in Hawaii Placing 1st in the Open Division. Ronny is excellent at motivating and pays meticulous attention to detail. Preparing for competition is not easy but Ronny has made our journey a smooth and educational experience. He left no stone unturned and is a master of his craft. I can't wait for our next journey.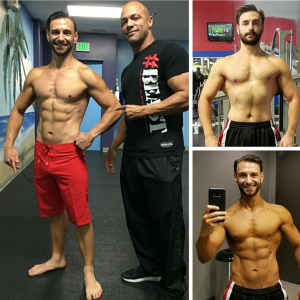 Working with Ronny Camacho and the Physique Inc team was an incredible experience. I decided to work with the Physique Inc team because they were incredibly experience and knowledgeable and I believed that they were the best to work with to help me achieve my goals of competing on stage as a Men's Physique Competitor. Many of the coaches have competed in bodybuilding competitions before and have worked with numerous athletes for competitions, so I felt confident in their knowledge and experience. Working with Ronny was amazing. Right from the start, I knew that Ronny had a no BS attitude and he was able to tell right off the bat how serious I was about competing and the level of commitment I was willing to give. Ronny fully understood my goals and what I wanted to achieve and was more that happy to help guide me to achieve those goals. After our first couple of consultations, regarding activity level, food preference, and over all goals, Ronny quickly presented me with a thorough workout and meal plan and said if there were any questions or concerns to feel free to ask. The workout plans were great and I definitely noticed improvements in muscle growths. Ronny was very accommodating when I needed to change up the workout due to some joint discomfort so that I could still gain muscle with less risk of injury. Ronny consistently followed up with me with feedback on progress photos and improvements. Ronny also assisted in other aspects of my physique journey including contest prep, posing, and just overall contest knowledge. The only thing I do wish is that Ronny and I could have meet up more frequently and that I could have trained more one on one but due to schedule conflicts and me moving half-way through my training, that made it difficult. But Ronny never lost contact with me regarding progression and any changes to workout and diet plans. Ronny helped me every step of the way. He helped me initially bulk up and build muscle, cut up and get lean for the contest stage, assisted in posing routine practice for the contest, and cheered me on as I walked on stage to compete on stage and show off all the hard work he helped me achieve. Ronny did this all while helping me become more confident in my physique and about myself overall. It was incredible to know that I had someone like Ronny who was committed to me and help me take this physique journey. The knowledge and support that Ronny gave me I feel is invaluable and I can't thank him enough for assisting me in achieving my physique goals and future goals to come. I look forward to working alongside Ronny and the rest of the Physique Inc team in the future.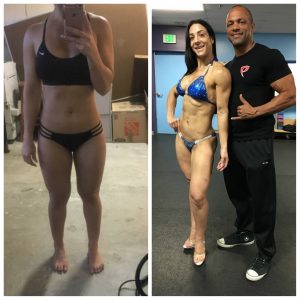 Never in my wildest dreams would I have imagined all that I accomplished this past year! I woke up one day, it was my 40th birthday and I wasn't too happy about where I was physically. I did not feel healthy. I searched and searched for ways to lose weight and get my body back in shape. I am SO HAPPY I found my trainer! While it took my own hard work and determination, importantly it also took an amazing trainer like Ronny Camacho and the entire Physique Inc family by my side. Ronny is so smart and experienced. He knows all the ways to ensure losing weight in a healthy way and accomplish the goals I set out to obtain. He helped me on my journey to reach my fitness goal and got me to my first fitness competition. He was in my corner the entire time, guiding me, rooting me on and was the most influential person to set me up for success. I was provided a meal plan, workouts, and had constant contact with him regarding each transition period and phase. Even during my hardest times, he was there to help me, not only physically but emotionally and mentally. With his help I succeeded and I annihilated my goal! I can't wait to start again this year and continue this journey with Ronny and the entire Physique Inc family!!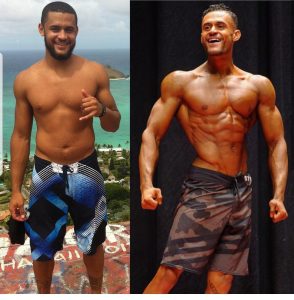 I was absolutely blessed to have the opportunity to be trained and mentored by Ronny. Although it was for a short period of time you would have thought it was for years. He pushed not only my body but my mind as well, allowing me to reach new heights and goals that I would have never even considered on my own. Ronny provides you with constant encouragement, love, a passion that is unmatched by anyone else that I have EVER met as well as a vast and immense knowledge of the overall fitness and nutrition field. It is safe to say that you would be down right foolish not to work with Ronny as he is the VERY BEST! So long as you give him a 100% of your effort and commitment you will get 300% in return and you will be absolutely amazed with the results. When training with Ronny you are not working with a trainer that is just there to count reps and tell you what to do so they can collect a paycheck. You are working with someone who cares about your well being and is going to embrace you and treat you is if you were family while still pushing you to be the very best you can, be and then some. I am forever grateful for Ronny and everything that he has done for me, not only physically but mentally and emotionally as well. He is not just there for your physical wellbeing but for your overall health. I cannot thank him enough. It is a no-brainer… if you want a COMPLETE PHYSIQUE Ronny Camacho is your guy!
Man, Ronny Camacho is amazing! He was such an incredible coach and I enjoyed my experience with him for the 6 months that I was with him training and getting prepped for my next competition. He helped me get through some of the lowest of the lows when I had no energy, no desire, and no will to even want to compete. He came in with his motivational words of wisdom and set me right. He's the type of trainer that not only gets your training program together, but he gets your life right. He has a certain amount of knowledge and wisdom that only comes with age and experience and my experience with him changed my life for the better. Not just in my fitness life, but in my actual life. In general, Ronny Camacho was one of the best parts of my training because he motivated me to want to do good for me and it wasn't about the destination it was about the journey that you were on.